Faro Airport Transfers to Monte Gordo
How to Get from Faro Airport to Monte Gordo?
If you are planning on travelling to Monte Gordo soon you will most likely arrive at Faro Airport. Once there, unless you know someone in the Algarve you will certainly need a transport to Monte Gordo. If you want to avoid all the hassle of catching an Algarve public bus to Monte Gordo carrying your luggage around and if you are not willing to wait in lines or pay for expensive normal taxi fares to Monte Gordo, your best option is to book online a private Faro Airport transfer to Monte Gordo.
Easy online booking for your arrival and departure Faro Airport transfers
book with confidence. FAO certified provider.
How it works? Simple.
Select Monte Gordo as your transfer destination area and provide us with flight details, Monte Gordo accommodation address and contact. We automatically process your request for transport availability to Monte Gordo and send you a booking voucher with transfer confirmation in a few seconds. At Faro Airport arrivals hall a friendly driver will be waiting for you next to our company sign. For the return transfer we will pick you up from the same address in Monte Gordo. And remember, you can always pay later to the driver for both your arrival and return Monte Gordo transfer.
How far is Monte Gordo from Faro Airport? How much will it cost?
Private taxi transfer prices per vehicle. You can

pay online

or

later to the driver

in euros.
Faro Airport Transfer

to or from

Start Price per Vehicle
Monte Gordo
65€
Book
How long? The travel distance between Faro Airport and Monte Gordo is 57Km and transfer time takes approximatly 67mins under normal traffic conditions. For better service response we may choose a route to Monte Gordo through the highway.
Private Transfers from Faro Airport to Monte Gordo
The most efficient and cheap way for getting to Monte Gordo
Our private Faro taxi transfers to Monte Gordo have fixed rates and represent a much more faster, affordable and hassle free alternative transport to Monte Gordo A friendly driver will meet and greet you at Faro Airport arrivals hall. He will assist you with all the luggage and guide you to your assigned transfer vehicle, which may vary from an executive saloon or estate car for up to 4 passengers to a modern people carrier van or mini-bus up to 16 passengers. In approximately 67 minutes you will be relaxing at your Monte Gordo resort, hotel or private villa. Welcome to the Algarve!
---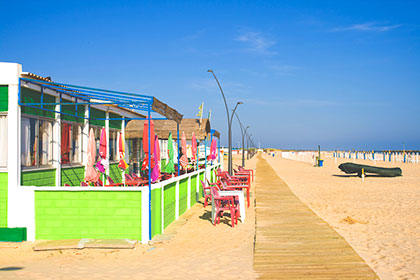 Going to Monte Gordo Soon? Some Useful Info
Monte Gordo is situated in the Eastern Algarve where you can find endless beaches of fine golden sand, calm warn waters and rocks free. Monte Gordo was in the older days a small fishing village now turned into a tourist city. At night you can visit the casino or simply enjoy a delicious typical food at one of the many local restaurants. During the day, besides relaxing on the beach, you can jog on the 5km sidewalk through a beautiful pinewood till Vila Real de St. Antonio. The top rated activity is definitely the boat tour up the Guadiana river till Mertola.
Transport to Monte Gordo Hotels, Resorts & Villas
Our private transfer service at Faro Airport will transport you directly to and from any resort, hotel or private holiday villas / apartments in the Monte Gordo area: Hotel Baia de Monte Gordo, Navegadores, Alcazar, Aparthotel Guadiana. To pre-book taxi transfers from Faro Airport to Monte Gordo or to other near by destinations take a look at our full list of taxi transfers fares & prices for all the covered locations in the Algarve.
---
Prices for Private Taxis to Monte Gordo Area
Low Cost Ground Transportation to Monte Gordo and Nearby Locations
Private taxi transfer prices per vehicle. You can

pay online

or

later to the driver

in euros.
Faro Airport Transfer

to or from

Start Price per Vehicle
Altura
55€
Book
Cabanas de Tavira
37€
Book
Cacela Velha
55€
Book
Castro Marim
65€
Book
Manta Rota
65€
Book
Monte Gordo
65€
Book
Tavira
37€
Book
Vila Real de St. Antonio
65€
Book
Looking for other locations?
We cover the entire Algarve area or any other location in Portugal and also Spanish locations nearby the Portuguese border.

More Taxi Transfers Fares & Prices
---
Private Transportation at Faro Airport
Quality & reliable Algarve taxi transfer service
Official and certified Faro Airport transfers company
Transportation services available 24 hours 7 days a week
Professional and licensed English speaking drivers
Insurance coverage for passengers and luggage
Option to pay online via PayPal or later to the driver
Modern and well equipped vehicle fleet with air conditioning
Suitable for golf transfers and special luggage requirements
Baby seats available for free if previously required
Door-to-door Faro Airport transfer itinerary with no stops
Private, no shared transfers - not a shuttle bus service

---
Customer Reviews on Faro Airport Transfers
Clients feedback and opinion on their private transfers between Faro Airport
"I booked a transfer from Faro airport to Vilamoura and everything worked very well and if I ever fly back to Faro, I will use your service again. Thanks, Tom."

Tom O' Connor
"We also used your airport transfer to Alvor service last week. I must complement you once again on providing a prompt, efficient and courteous service."

Andrew Rayner
"When I went to the Algarve my airport transfer to Lagos service was very good and I would use it again for sure next time. Thanks!"

Martin O'Connor
---